June 19, 2023
Chloe and I went to downtown to cavort in the city on a rainy June day.

First stop was the Portland Art Museum to take in the exhibit Crafting Pinnochio. All about bringing Guillermo del Toro's Pinocchio to life.

Here's the trailer for the film, if you're not familiar with it.

…and the making of…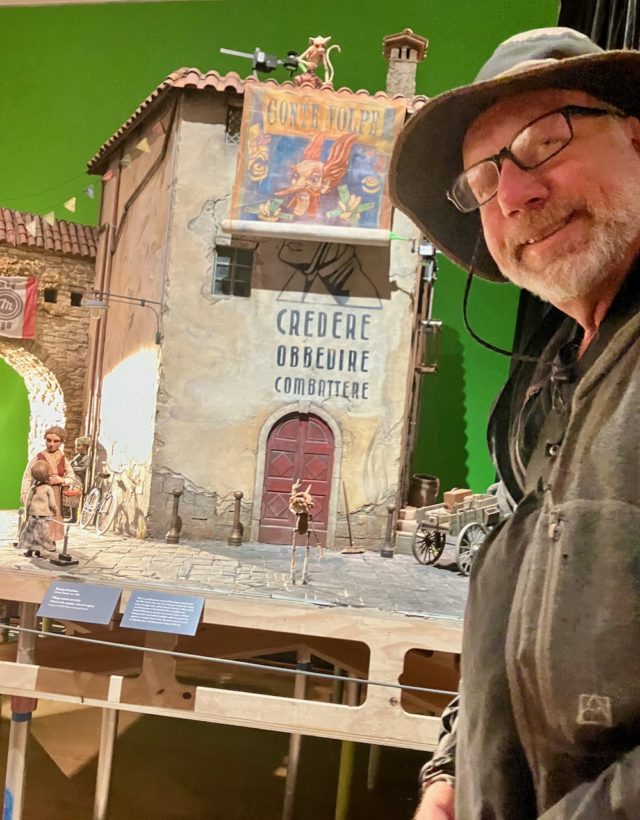 The sets are pretty amazing.

This set is so big, can't really see any detail from back here.

The detail is astounding. Much of the film was created here in Portland.

Here's an example of all the crazy, tiny parts that go into each puppet to allow them to move.

Here's Chloe sitting on the Totoro bench in the shop will all the keen stuff from Japan.

Afterwards we walked down to Pioneer Courthouse Square.

Umbrella guy!

Here we are seeing if I can capture the echo with my camera. Oops, it didn't work.

Rocket Fizz! The shop with all the candy!

Chloe wanted to try real ramen, so we did. Dang, it was good.

Yum!

Afterwards, Chloe says the ramen was the best part of our ramble.

Lunchtime doodles

Chloe doing the skybridge dance.

We visit an art gallery

Love Monster

"Fish Fingers"

A short tour of Chinatown

…and we ended up in Waterfront Park. All in all we walked a bit over five miles.

Back home with the bunnies.